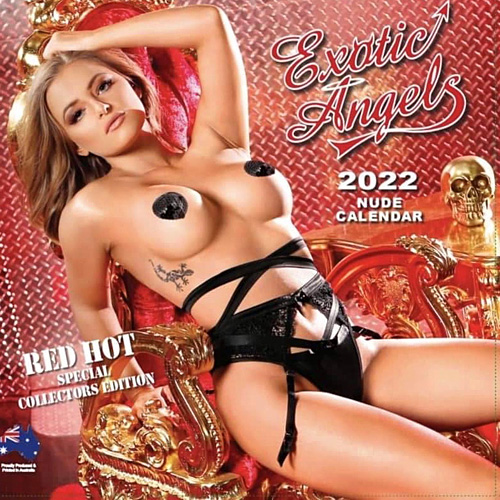 2022 Exotic Angels Nude Calendar
When we released our Special 20th Anniversary Edition last year, we did not think we could produce a hotter calendar…but we were WRONG!
Our EPIC 2022 RED HOT SPECIAL COLLECTORS EDITION takes it to the next level!
This NSFW Fully Nude All Star showcase features more of our most popular and most requested Angeles from the past two decades with steamy photos never before seen! These sexy Angels are OUT OF CONTROL!
The best selling Exotic Angels calendar is without a shadow of a doubt Australia's naughtiest, raunchiest & sexiest calendar! This must have collectors' edition is a spectacular and totally uncensored culmination of 2 decades of featuring the hottest Australian and International showgirls in the business!
Price: Still only $22.95 

Payment options:

PAYMENT OPTIONS:
You can choose to pay by direct deposit as well as through PayPal. Or use any major credit cards processed through PayPal even if you don't have a PayPal account. Just select your preferred payment method at check out.
SHIPPING INFO:
Single Calendar
Australia $9.50
NZ $20.00
USA & Canada $24.00
Rest of the world $30.00
2-3 Calendars in one order
Australia $14.50
NZ $25.00
USA & Canada $35.00
Rest of the world $40.00
(All prices in Australian Dollars)
 For other quantities or questions, please use our Contact Form >>> 
2022 EXOTIC ANGELS CALENDAR DETAILS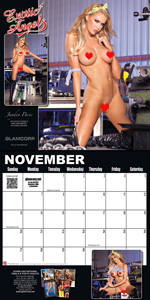 The very special 2022 Exotic Angels Red Hot Collectors' Edition  is the spectacular culmination of more than two decades of the exhaustive and sexy nationwide Exotic Angels model search! This must have second "All Star" edition features 12 of our best liked and most requested showgirls who have appeared in our calendars and competed in our finals over the past 20 years! It is a truly remarkable showcase of true blue Aussie and International fully naked hotness!
We have selected scorching and never before published photos from our hottest past calendar shoots so while you may recognise the ladies, you haven't seen these completely uncensored pics before! 
The spectacular 2022 edition showcases:
Jayden Paris
Morgan Sommers
Amber Love
Dallas Rayne
Erica Everheart
Ashley Elliott (UK)
Jade Ivy
Phoenix (NZ)
Indica Trixx
Scarlett Morgan
Blaze
Shani Rampage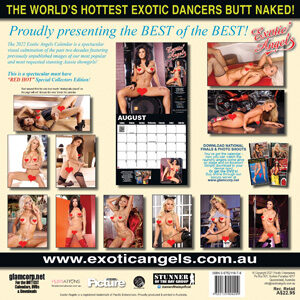 The jaw dropping full size 300mm wide x600mm high fully nude glossy wall calendar also featuresan exclusive "sneak peek" of our "angels in waiting"! These are the sensational ladies waiting to compete in our 2022 National Final and appearing in our 2023 edition !
This is truly the best gift ever! For yourself or someone else that appreciates stunning true blue (and very naked) girls! It is a must have for any self respecting man (or woman) cave, pool room or dunny!
WARNING! Contains full, gratuitous, unapologetic and confronting nudity