Welcome to GLAMCORP!
The hottest wall calendars and DVD's on-line!
Secure shopping 24/7!
Start shopping NOW>>>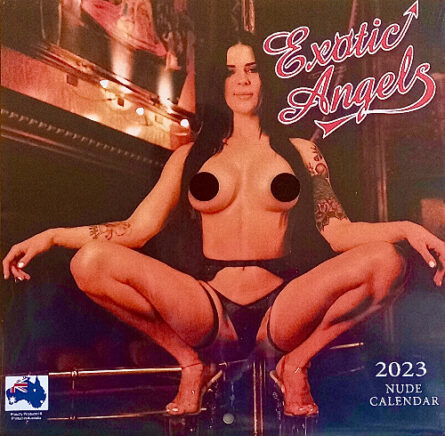 The 2023 Exotic Angels Nude Calendar Is Here!
The smokin' 2023 edition is here and it is another visual erotic masterpiece! For the first time ever, the cover model – Paige – is actually topless! The black dots you can see in the photo are only stickers on the shrink wrap packaging. Once you peel it off, you will enjoy Paige's spectacular boobs in their full naked glory! This completely uncensored collectors' edition is a spectacular and sexy NSFW showcase featuring the hottest Australian showgirls in the business! It isa must have for every man or lady cave, pool room, workshop, dunny etc.
SORRY – THE 2023 EDITION IS COMPLETELY SOLD OUT ONLINE…
Don't panic. You can still find copies in newsagents.
2021 Exotic Angels 20th Anniversary Edition Nude Calendar
Our hottest calendar EVER! Our 2021 Special 20th Anniversary Edition features the "BEST OF THE BEST"! This NSFW Fully Nude All Star showcase features our most popular and most requested Angeles from the past two decades with most photos never before seen! The best selling Exotic Angels calendar is without a shadow of a doubt Australia's naughtiest & sexiest calendar! This must have collectors' edition is the spectacular and sexy culmination of 2 decades of featuring the hottest Australian and International showgirls in the business!
Price: $22.95 
NOW ON SPECIAL! $17.95
NEW! EXOTIC ANGELS PREMIUM DOWNLOADS RELEASED!
This is where you will find very special clips featuring our hottest Angels! These clips are way too hot to be included on the DVD so they ended up here in the "naughty corner"! Check it out >>>
NEW! 2019 EXOTIC ANGELS UNCENSORED DOWNLOADS NOW AVAILABLE!
Great news! You can now download your favourite Exotic Angel to your own screen or device!
You can sit in your ringside seat and watch the girls perform amazing shows on stage at the finals, or you can join them on location for some steamy and cheeky BTS action!
"It's like being there!"
And the best news? Downloads are only $3.95
2019 Exotic Angels "Access ALL Areas" DVD
It's the scorching "Access All Areas" 2018 Exotic Angels Fully Nude DVD!
Get your ringside seat at the spectacular 2017 Exotic Angels national Final at Hollywood Showgirls and watch the absolute elite Australia's hottest and best strippers battle it our for a host of coveted titles including Miss Pole Position, Miss Dreambody and Performer Of The Year!
You'll also get an uncensored, steamy and cheeky look behind the scenes as you join the sexy angels on location for their 2018 Exotic Angels Fully Nude Calendar shoots!
WARNING! Explicit content!
See more >>>