2019 Exotic Angels Nude Calendar
The smoking, sexy and definitely NSFW 2019 Exotic Angels Fully Nude Calendar is now available for immediate delivery! Exotic Angels is completely unique and without a shadow of a doubt Australia's sexiest calendar! It's a sensational and steamy showcase featuring 12 of the hottest strippers, showgirls and adult entertainers representing premier gentlemens' clubs and agencies in Australia and the world!
Price: $22.95
Payment options:


You can choose to pay by direct deposit as well as through PayPal. Or use any major credit cards processed through PayPal even if you don't have a PayPal account. Just select your preferred payment method at check out.
DETAILS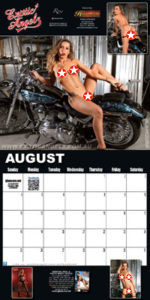 The 2019 Exotic Angels calendar is the spectacular culmination of an exhaustive and sexy nationwide model search! It is truly the pinnacle of Exotic Dancing and it's the only one of its kind!
As always – this amazing edition features numerous stunners with countless magazine covers, features and adult industry titles to their credit!
The 2019 edition showcases: Axel Reign – Miss January & Miss Exotic Heat |Representing Diamond Cluture)
Jessi James – Miss April & Miss Exotic Elegance | Representing The Grosvenor Topless Bar & Strip Club
Halo – Miss May & Miss Exotic Star | Representing Pinup Promotions/Jo's exotic dancers
Kitten – Miss September & Miss Seduction | Representing KittyCo Entertainment & Belle Vie Models
Janine Jericho – Miss December & Miss Exotic Showgirl and Performer Of The Year | Representing Canada
Margot Rivers – Miss February & Miss Showstopper | Representing Dantes Showgirls Live & Diamond Dolls
Britney Madison – Miss June & Miss Exotic Entertainer | Representing Club Vixen
Ashley Elliott – Miss July & Miss Exotic Bombshell | Representing Dollhouse the club
Marley Stone – Miss March & Miss Exotic Fantasy | Representing Blackmystiques
Rose – Miss August & Miss Pole Position | Representing Hollywood Showgirls
Regan Slayter – Miss October & Miss Dreambody | Representing www.reganslayter.com.au
Jessica Harley – Miss November (Did not compete in final)
The steamy 2019 edition was beautifully shot by talented Gold Coast based photographer Richard Mamando. Hair & Make up Ellie Wright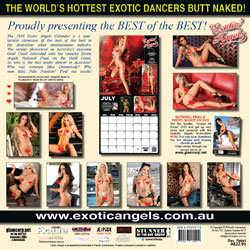 The jaw dropping full size 300mm wide x600mm high fully nude glossy wall calendar also features full pictorial coverage of the 2018 Exotic Angels National Final at Hollywood Showgirls in Surfers Paradise and unique, behind the scenes features including exclusive on-location shots!
This is truly the best gift ever! For yourself or someone else that appreciates stunning true blue (and very naked) Aussie girls! It is a must have for any self respecting man cave or pool room!
WARNING! Contains full frontal nudity.
Partners:
The Picture Magazine
Club X
Stunner of The Day Group
Hollywood Showgirls
Flirtations Clubwear
Aus Lip Squad
The Sugar Pot
Jetpack Adventures
Dracula's Cabaret Restaurant Gold Coast