2019 Australian Swimsuit Calendar
The 2019 edition of Australia's best selling swimwear wall calendar is here and ready for immediate delivery! The true blue glossy calendar features a who's who of Australia and NZ's hottest up and coming swimwear models photographed by talented photographers all around Australia and New Zealand!
Size: 300mm x 300mm
Submissions are now open for our 2020 Australian Swimsuit calendar for both models and photographers! Register now here now: entry@swimsuitcalendar.com.au
Price: $22.95




You can choose to pay by direct deposit as well as through PayPal. Or use any major credit cards processed through PayPal even if you don't have a PayPal account. Just select your preferred payment method at check out.  

DETAILS
This visual masterpiece continues a brand new direction for the Australian Swimsuit Calendar as it wasn't shot by a single photographer but instead is the result of a massive Australia and NZ wide collaboration involving stunning models and talented photographers.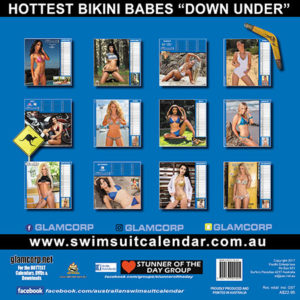 The stunning models featured in the 2019 Australian Swimsuit Calendar edition include: Ashleigh Jade, Kimberley Hartnett, Ashton Avenue, Danielle Howrood, Nicole Dolly, Talia Phillips, Elle Maree, Monica-Rose Van de Luecht, Whitney Rae Freyling, Jennifer Gayle, Laura Dreyer, Anne and Marie Pisina!
The eye catching cover features sultry Shontelle McFarlane photographed by Nick Vangopoulos!