2018 Australian Swimsuit Calendar
The 2018 edition of Australia's best selling swimwear wall calendar is here and ready for immediate delivery! The glossy 2018 Australian Swimsuit Calendar features a who's who of Australia and NZ's hottest up and coming swimwear models photographed by talented photographers all around Australia and New Zealand!
Size: 300mm x 300mm
Submissions are now open for our 2019 Australian Swimsuit calendar for both models and photographers! Register now here now: entry@swimsuitcalendar.com.au
Price: $22.95

DETAILS
This visual masterpiece signals a new direction for the Australian Swimsuit Calendar as it wasn't shot by a single photographer but instead is the result of a massive Australia and NZ wide collaboration involving stunning models and talented photographers.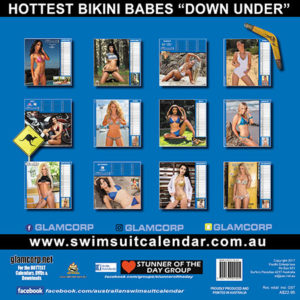 The stunning models featured in the 2017 Australian Swimsuit Calendar edition include: Tiana Haste, Maddison Jane, Kristin Wells, Tanika Judge, Jasmine Farlow, Regan Slayter, Kaila O'Donnell, Bianca Lee Bailey, Nicole Dolly, Jessica McIlveen, Olivia Walker & Bec Ransom!
The eye catching cover features jaw dropping Angie Walsh photographed by Jason Cole!