2017 Australian Swimsuit Calendar
The 2017 edition of Australia's best selling swimwear wall calendar is here! The 2017 Australian Swimsuit Calendar features a who's who of Australia and NZ's hottest up and coming swimwear models photographed at spectacular Gold Coast locations! It also includes coverage and photos from the thrilling National Final at mega popular and newly reopened Surfers Paradise nightspot Shooters Nightclub as well as on-location and behind the scenes shots!
Price: $22.95
NOW ON SPECIAL- ONLY $15.00 (limited time only while stocks last)

DETAILS
This visual masterpiece was photographed on location around the Gold Coast by talented glam shooter Dwayne Olsen who brought their vast experience and talent to produce a truly sensational showcase of hotness! make up and hair was looked after by the equally talented but way more attractive Yuni Wilson.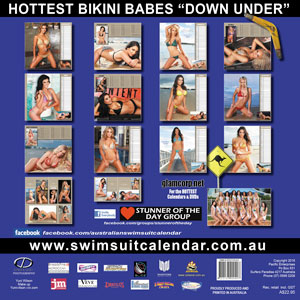 The stunning models featured in the 2017 Australian Swimsuit Calendar edition include: Jessie-Lee Ferguson, Tara Borich, Stephanie Mears, Krystal Dawson, Ash Anderson, Monisha Lew Fatt, Laiana Martins, Nikki Brownlie, Kimberley Hartnett, Rochelle Witherdin, Casey Parsons, Georgia Johnson (NZ), Kaila O'Donnell, Becky Tia Luise White, Brooke Naismith (NZ), Lauren Higgs and Charlotte Cush! The cover features jaw dropping 2015 Miss Calendar Australia Girl Winner Liz Kirkness masterfully captured by US based mega star glam shooter Mike Prado!