2017 Exotic Angels Calendar
The sexy, sizzling and always politically incorrect 2016 Exotic Angels Fully Nude Calendar is now available for immediate delivery! Exotic Angels is without a shadow of a doubt Australia's sexiest calendar! It's a sensational and steamy showcase faturing 12 of the hottest strippers and adult entertainers from the premier gentlemens' clubs and agencies in Australia!
Price: $22.95   ON SPECIAL NOW ONLY: $17.95 
(While stocks last)
');
 
Payment options:


DETAILS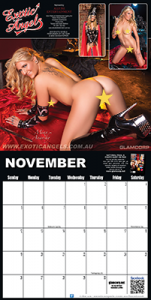 The 2017 Exotic Angels calendar is the spectacular culmination of an exhaustive nationwide model search and it is truly the pinnacle of Exotic Dancing! It is the only one of its kind!
This amazing edition features numerous stunners with countless magazine covers and features to their credit!
The 2017 edition showcases: Allegra King – Miss Pole Position, Alice Kinks – Miss Exotic Star, Cody Harris – Miss Exotic Elegance, Dannii Rocket – Miss Exotic Entertainer, Jordan Black – Miss Exotic Showgirl, Minx Anarchie – Performer of the Year & Miss Exotic Showstopper, MJ Montana – Miss Exotic Heat, Delilah Daniels – Miss Exotic Bombshell, Erica Everheart – Performer of the Year Runner-up & Miss Exotic Fantasy, TJ Hynd – Miss Dreambody, Amber Love – Miss Exotic Showgirl. 
The 2017 Exotic Angels Calendar Edition is a tribute to the amazing Skye Bee who won the titles of Miss Pole Position and the main title of Performer of the Year in 2015. Tragically and sadly Skye passed away only weeks after her triumphant night at the Exotic Angels final held at Hollywood Showgirls and her calendar shoot. Skye is featured on the cover and she has her own montly page in the calendar. #4uSkye`

The 2017 edition was beautifully photographed by talented GC photo artist Nick Krzywdzinski while hair and make up was skillfully looked after by Yuni Wilson.   

The jaw dropping full size 300×600 mm glossy wall calendar also features full pictorial coverage of the 2017 Exotic Angels National Final at Hollywood Showgirls in Surfers Paradise and unique, behind the scenes features including exclusive on-location shots!

This is truly the best gift ever! For yourself or someone else that appreciates stunning true blue (and very naked) Aussie girls!

WARNING! Contains full nudity
SPECIAL – LIMITED TIME OFFER! PRE-ORDER YOUR 2021 CALENDAR NOW AND SCORE A FREE BONUS DVD!